Nothing in life is free. That statement is definitely not true. Most of us are probably even sitting on multiple streams of income that require little to no effort right now! You just have to recognise the opportunities that are available and put them into practice to get free cash right here in Singapore.
Is getting free cash in Singapore possible?
Yes, it definitely is! You may need to put in some effort at the start, but it is certainly possible. In fact, people around you are already doing it.
Is getting free cash in Singapore legal?
Again, yes. All the ways to get free cash that we will discuss here are completely legal. They have been tried and tested, and in some cases, over many years. Try them out to get free cash with no legal risk before you apply for loans from either a bank or a licensed moneylender.
Turn your spending into an income stream
What better way to earn free cash in Singapore than to turn your expenses into income? Here are the two most popular ways to earn money while spending it.
1. Credit card and debit card rewards
All credit cards and many debit cards issued by banks in Singapore have an associated rewards programme, whether it's cashback, rewards points, or frequent flier miles. Some of these rewards programmes begin automatically once you activate your card while others need to be manually enabled.
Make sure to visit the banks' websites to find out all the different rewards schemes as well as bonuses that you'll receive for getting a new card. If you're thinking of applying for a cashback credit card, you will usually receive a percentage of the accumulated charged amount for the month in your bank account or as a deduction of that month's credit card statement.
2. Gift vouchers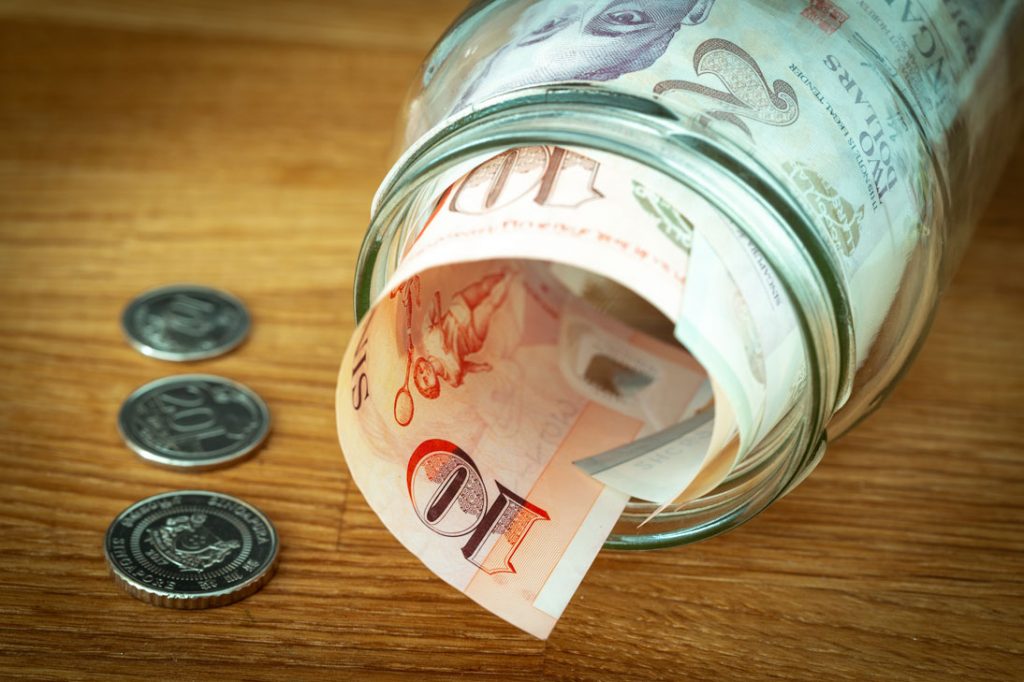 Most of us have had the experience of finding old gift vouchers among our things just a few days after they have expired. This is the closest way you can get to actually throwing money away, sadly.
The next time you get a gift voucher, use it as soon as possible. If it is for a product or service that you don't need or want, you can sell it. Online platforms like Carousell or even Facebook are perfect for earning cold hard cash for zero effort. You can even send the gift voucher to your recipient via courier or mail if you don't have the time or energy to meet up with them.
Turn your possessions into an income stream
You might not know it, but you're sitting on a treasure trove of things inside your home that others would love to buy or pay to use. This is an easy way to receive free cash in Singapore as well.
3. Sell unused items
From baby toys to kids' furniture and old mobile phones to flat-screen TVs, there is a market for almost everything that you no longer use. Again, platforms like Carousell and Facebook are ideal for advertising your items free of cost.
4. Airbnb experiences
As the world recovers from the coronavirus downturn, Singapore is benefitting from more travellers transiting through the Lion City and also visiting it. Hosting Airbnb Experiences is a way for you to earn some extra money while offering authentic experiences to tourists. If you're an expert in a particular tour, location, or uniquely Singaporean experience, this is something you can consider doing.
Turn your entertainment into an income stream
Honestly, is there anything better than getting paid to do what you love?
5. Video game streaming
The online gaming behemoth only gets bigger and more lucrative with every passing year. Skilled players can get audiences in the millions, many of whom will subscribe for additional content. Then, there are sponsorship deals from video game manufacturers, accessories companies, and lifestyle products. However, you will need to stream consistently to build up your viewer following.
Passive income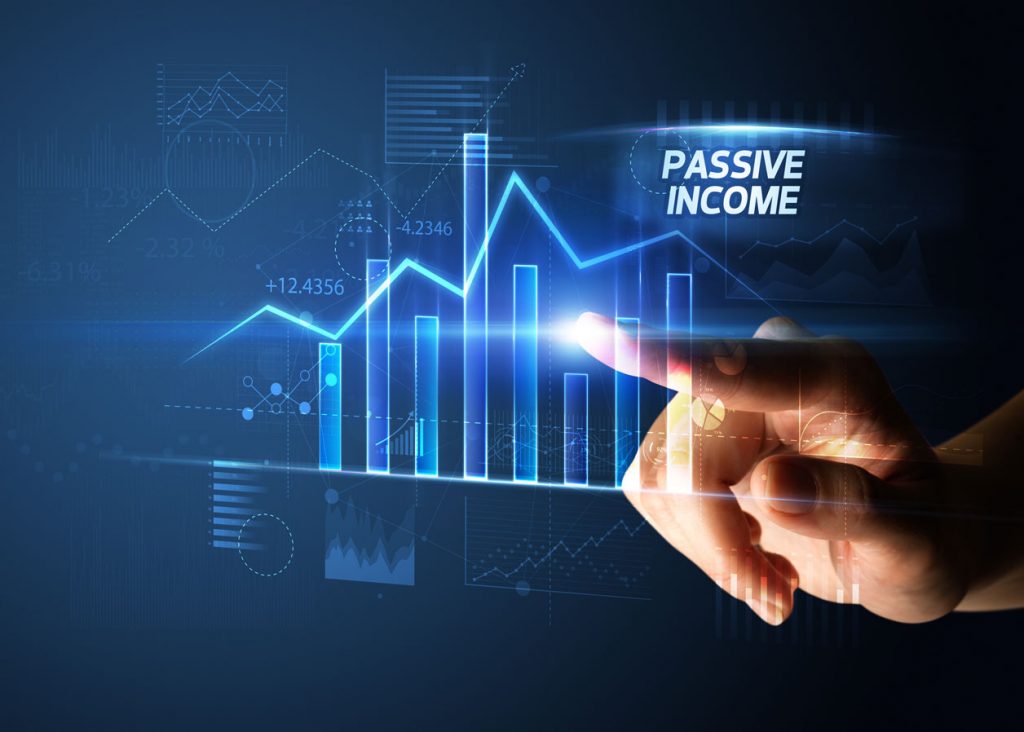 Sit back and just let the money roll in? Yes because that's exactly what passive income means!
6. Interest – Fixed deposits
When someone gets an instant loan from a bank, the bank uses the money that you have deposited. However, they charge a much higher interest even on a short-term loan than what they give you. That's how banks can make money. Putting your money in a fixed deposit will let you earn higher interest rates by simply locking up your funds for a set period.
 7. Interest – Online banks
Online banks like Trust Bank and GXS grant higher interest rates even on savings accounts. They can afford this because they do not have any expenses related to operating a physical branch. Their clients may also enjoy attractive rates on an instant loan for the same reason.
8. Websites
Almost every website runs ads. Just as advertisers pay to set up hoardings in public places, they pay website owners for this virtual advertising space. Websites can also earn from affiliate programmes that pay out a percentage of every sale made through special hyperlinks in the content.
These ads and links run 24 hours a day, 365 days a year with no involvement from you… besides getting paid!
However, your website does need to have a consistent level of traffic to it. Therefore, you will need to ensure that it ranks highly on Google and that you have a steady stream of content to keep your website's visitors engaged.
9. Free cash via online programs
Many new websites, applications, and online game designers will pay users to test out their products. Sign up for one of these testing programmes and they will hand you apps to use and games to play, and watch ads within them. Some consumer research companies also do the same and may also pay cash when you complete surveys. Spare some time daily for this and you'll steadily accumulate the cash.
One option that's reliable would be Google's own Opinion Rewards program. For every survey that you complete in the app, you'll be rewarded with Google Play or PayPal credits. It's a great way to make the most out of the time you spend waiting in line or when you're commuting.
There are many simple ways you can consider to get free cash in Singapore, and we hope the above nine points have shed light on the possible income streams you can look into. Now, let's do a quick recap before you get the ball rolling.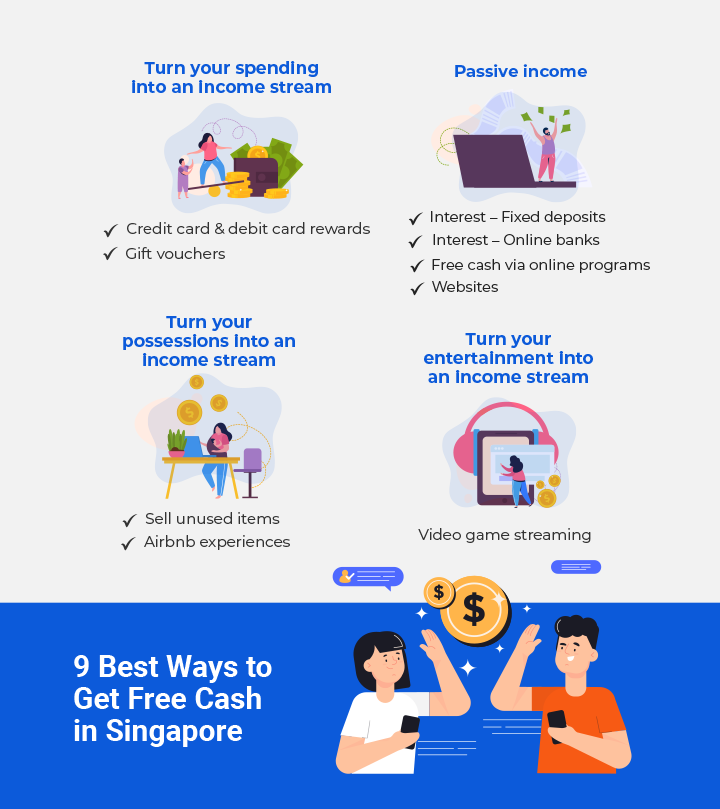 You need to be careful, though
There are many opportunities to get free cash in Singapore but there are even more ways to get scammed online if you are not careful.
Try to avoid any passive income programs that ask for subscription fees. Additionally, make sure that when you share financial information to get paid, the webpage is secure (the URL starts with HTTPS and there is a locked padlock icon beside it). The most amount of information that you should share with regards to payments is your bank account number.
By using these nine methods above and being careful, you could even pay off your cash loan earlier than expected.
However, if your financial situation requires you to take on a loan, you can consider MM Credit, a licensed moneylender who has been operating in Singapore since 2013. Get your application started by simply filling in the Online Loan Form on our homepage. From there, our experienced loan officers will reach out to you with a personalised quote.